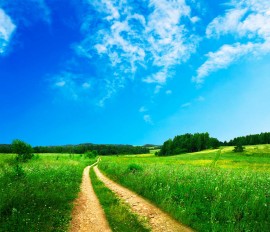 What Is My Purpose?
Have you ever asked yourself the question, "What is my purpose in life?"…..
The Creator God, who made you for His glory, has a dream for you, a definite plan. Each and every one of us has been brought into this world, not as a result of mere chance or planetary accident, but by God's own divine will. "Before I formed you in the womb I knew you…." (Jeremiah 1:5); these words of assurance were spoken by God to the prophet Jeremiah when God informed him of his life's purpose. We have each been given the great gift of existence for a reason; and the glory and true significance of life will be found in doing the very things that God Himself has planned for us. Most of us however, go through life never aware of our true value. For many, life has no meaning at all. They feel unimportant and insignificant, not realizing how truly unique they are in the eyes of God; much less that He would have any special plans just for them.
God's Plan For You
If you can believe that God has a plan marked out especially for you, it will change your life immeasurably!  And this you must bring yourself to believe, for the God of heaven has declared it to be true: "For I know the thoughts that I think toward you, says the Lord, thoughts of peace and not of evil, to give you a future and a hope." (Jeremiah 29:11). As you take hold of this truth and let it sink down into into your mind and heart, it will become the great conviction of your life, and you will recognize that all the varied experiences and circumstances that you have passed through, have been sent, or allowed by God in order to shape and mold you for the better accomplishment of His divine purposes for you. The disappointments of life, the fiery trials, the hurts, hardships, heartbreaks and losses, although hard to endure, all have their place in God's divine plan.
We live in God's every thought, and all that happens to us in life is for a reason. When we truly understand this, our lives will glow with beauty, and we will be animated with a new enthusiasm and strength, and our life will thrill with new meaning and purpose. There will be no room for despondency and discouragement. We will learn to abide in God's Will. You may feel astonished at the idea that there are stupendous possibilities before you if you will just make the decision to give yourself completely to God in reverent love and self surrender. Your life will burst its wrappings, and you will be revived with heavenly warmth as you bring yourself into harmony with your Creator God, thus allowing Him to fulfill His dream for you.
Where to Begin

Never make plans for yourself without first seeking counsel from your Heavenly Father, asking for His instruction and guidance. Each morning, dedicate yourself to God for that day. Lay all your plans at His feet, trusting in His providence to direct what is to be carried out or given up. In doing this, the pattern of your life will be shaped according to the Will of your omnipotent and loving Creator. Your wonderful heavenly Father governs the entire universe by His will and power, and He sees everything in His vast creation. His knowledge is infinite. Through the act of sincere and earnest prayer, your mind and heart will be brought into connection with the mind and heart of the Majesty of Heaven. When you come to Him aware of your helplessness, and make your needs and desires known to Him in humble, trusting faith, He will hear your cry and will shine His light into your heart.

God is waiting for you to speak to Him as your very best friend. He wants you to share with Him everything that concerns you – your relationships, your desires, your problems and your fears. You can never overburden Him. God knows the needs of His earth-born children. His heart of love is touched by all of your difficulties. There is no problem too hard for Him to sort out; He rules the universe! Nothing is too small for Him to notice. There is no chapter in your experience too dark for Him to read. He can unravel any difficulty. God takes immediate interest in everything that concerns you. The relationship between you and your Creator is as distinct and full as though there were not another soul upon the earth to share His watch-care….. not another soul for whom He gave His beloved Son. 
Remember:  God Loves YOU!
Related posts